They say golf is a lifelong sport, and many enjoy the game from childhood well into their later years. But if you feel lower back pain when you tee off, you may wonder how long your playing days will last. Whether your pain is chronic or you feel the occasional twinge when you try to hit the cover off the ball, make it a priority to diagnose and address your pain so you can enjoy the links as much as possible before the snow flies. Dr. Chris D'Ambrosia, one of the Denver back pain specialists at Advanced Orthopedics shares the keys to prevent, treat and recover faster.
Prevent Lower Back Pain
Prevention starts well before you show up at the course, with a strong core.  This is admittedly the "eat your vegetables" equivalent of preventing back pain, in that it's not something you can accomplish the minute you decide to pick up a club.
A strong core takes commitment and time off the course, but don't be discouraged, even a little improvement can go a long way. If you are not used to doing core exercises, start with a couple of basic exercises, like standing bicycle crunches or seated leg lifts – both are a great way to start working on your core without doing sit ups.  Once you master some basics you can add new moves to continue your progress.
You use your core in many everyday activities lifting a grocery bag or laundry basket – take advantage of these activities by concentrating on your core muscles.
When you arrive for a tee time, be sure to give yourself plenty of time to stretch and warm up. Too many people show up just minutes before their time and take their first swing on the #1 tee box. This is a surefire way to put unnecessary strain on your back. The pros know this better than anyone, and the PGA offers some great resources for stretching and core strength.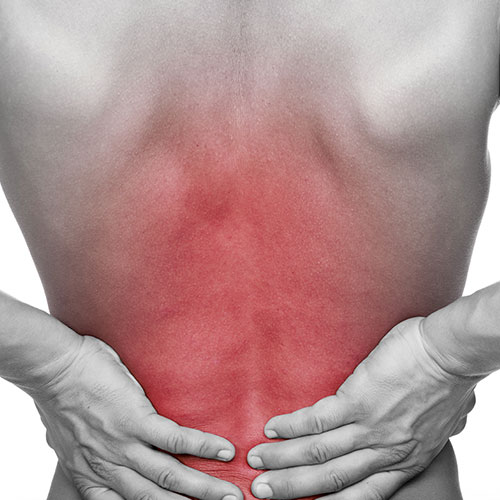 Treat Lower Back Pain
While most golf-related lower back pain, such as strains or sprains go away in days or weeks, more serious and sustained pain can be a sign of an injured disc or other condition.
If you have back pain that's not going way, see a pro – a medical professional. Across Denver back pain specialists evaluate and diagnose your condition and work with you on a treatment plan. Dr. Michael Shen and I evaluate patients for back injuries and disorders and work with each patient to identify the right treatment approach, which may include physical therapy, therapeutic injections, or surgery when needed.
Recover Faster
This time of year, it's hard for many to stay away from the course. But if you have an injury, be smart a take a few days' rest to allow your body to heal.  Many minor strains will heal on their own with proper rest, ice and a little ibuprofen (such as Advil), which is an anti-inflammatory.
If you are working with Denver back pain specialists, approach it as a team effort. We bring the expertise; you bring the commitment. This is especially important if you want to minimize your down time. Physical therapy is frequently part of the plan and sticking to your PT plan makes a huge difference.  This typically includes a combination of stretches, strength exercises, ice, and anti-inflammatory medication.
There are more than 300 great public and private golf courses across Colorado, do your part to prevent and recover from back pain more quickly so you can experience all they have to offer.
Treatment and Rehabilitation – Treatment Options for Low Back Pain
Non-Surgical Treatment – Low Back Pain Exercise Guide
For diagnosis and treatment for low back pain, see us at our Denver or Parker location. Call for an appointment (303) 344-9090.
Source: Advanced Orthopedics & Sports Medicine Specialists: Denver back pain specialists.