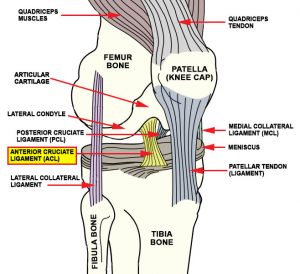 The anterior cruciate ligament (ACL) is an important internal stabilizer of the knee joint, restraining hyperextension. Anterior cruciate ligament injury occurs when the ligament is over-stretched, often with a hyperextension mechanism.
Formerly, ACL injuries occurred most often in a sports contact injury, when other structures were frequently involved. A particularly severe form of the contact injury is called the "unhappy triad" or "O'Donaghue's triad", and involves the anterior cruciate ligament (ACL), the medial collateral ligament (MCL), and the medial meniscus. Presently, ACL injury is more commonly a non-contact injury, such as a wrong landing from a layup in basketball. ACL injuries occur more frequently in athletes than in the general population and are prevalent in alpine skiing, football, soccer, basketball, rugby, wrestling, martial arts, and gymnastics. It is also known to be about three times more common in women than men.
The consequences of the injury depend on how much the stability of the knee is affected, and the extent to which other structures have been involved, and this can vary on a case-by-case basis. If instability is evident, particularly rotatory instability, then the menisci will get injured, sooner or later, setting the scene for progressive, degenerative, arthritis of the knee.