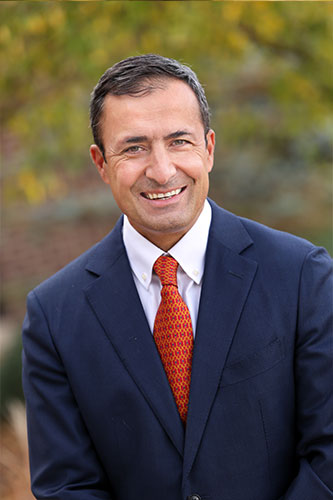 A. Todd Alijani, MD
Orthopedic Surgeon
Dr. Alireza Todd Alijani, MD is a board certified orthopedic surgeon, through the American Board of Orthopaedic Surgeons. He provides comprehensive care of the upper extremities, conditions from shoulders to the fingertips, including trauma, fractures, sports medicine, tumors, and pediatric or congenital conditions at Advanced Orthopedic & Sports Medicine Specialists in Denver and Parker, Colorado.
Dr. Alijani graduated from Georgetown University with a Bachelor of Science degree. He earned his medical degree from Georgetown University, completing his orthopedic residency there as well. Dr. Alijani fulfilled his general surgery internship at Walter Reed Army Medical Center and completed his hand and upper extremity fellowship at Hospital for Special Surgery/Cornell University Hospital in New York. He served four years in the military as a flight surgeon stationed at Fort Rucker, Alabama. Dr. Alijani was awarded the Meritorious Service Medal and received an honorable discharge in 1998.
Dr. Alijani's goal is to restore patients to their previous activity level. He has a particular interest in minimally invasive surgery which can lead to less discomfort and a more rapid return to leisure activities. Dr. Alijani joined Denver-Vail Orthopedics, P.C. in 2003. In October of 2017. Denver-Vail Orthopedics joined Advanced Orthopedic & Sports Medicine Specialists as a division of Orthopedic Centers of Colorado.
Please review Dr. Alijani's list of credentials and contact our practice for more information or to make an appointment at (303) 344-9090.
Advanced Orthopedic & Sports Medicine Specialists
Specialties
Carpal Tunnel, Tendonitis, Trigger fingers, Ganglions, Arthritis
Hand and Upper Extremity Surgery
Hand, wrist and elbow fractures
Arthroscopic Rotator Cuff & Shoulder Stabilization Surgery
Treatment of Common Problems With 
Hand
Wrist
Elbow
Shoulder
Education
Fellowship – Hand & Upper Extremity – Hospital for Special Surgery/Cornell University Hospital
Internship in General Surgery – Walter Reed Army Medical Center
Residency in Orthopedic Surgery – Georgetown University
M.D. – Georgetown University
B.A. – Georgetown University
Certification
Board Certified – Orthopedic Surgery